*Launch Creader CRP123X Engine, Airbags, ABS, Transmission
Sale!
Description
CRP123X is an upgraded Version of CRP123 and Creader VII+, with a stunning 5 inch IPS touch screen, supporting Engine, Transmission, ABS, SRS/Airbags, and  Full OBD2 Functions. It supports 57 brands compared to 40 on previous version. Now with One-click updates, AutoVIN scan recognition, battery voltage test, diagnostic report sharing and a 4000mAh battery, the CRP123X is a much improved machine.
CRP123X OBDII Functions:
1. Read and clear DTCs: show a detailed description of the diagnostic trouble code (DTC) and clear / reset diagnostic information.
2. Read the I / M preparation status: Show if the various vehicle emission-related systems are working correctly and are ready for testing and maintenance.
3. Read data stream: show information about the continuous data stream from the vehicle in real-time (signal) display.
4. reading freezing data: Check some vehicle conditions that are recorded by the on-board computer at the time of irradiation problems.
5. O2 Sensor Test: Show the latest O2 sensor test results on a graphic display for troubleshooting.
6. On-board monitor: read the results of the on-board diagnostic test control s for specific components/systems.
7. Reading vehicle information: Displaying information such as wines (vehicle identification number), CID (calibration ID) and CVN (Calibration Verification Number), etc.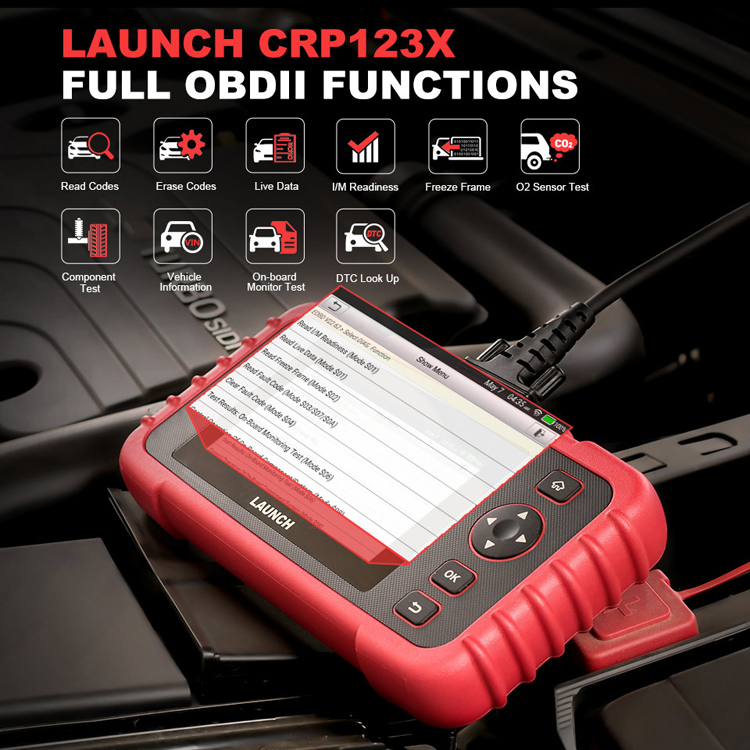 Launch CRP123X Features:
1. Easy-to-use case design: The diagnostic tool features a 5-inch touch screen in combination with operating buttons for ease of operation. You can control it with buttons or with your fingers.
2. Useful AutoVIN Technology: To reduce diagnostic time and help you solve the problem accurately, the CRP123X is built with AutoVIN scan technology, which can quickly scan the VIN number and identify the car model.
3. Wi-Fi update: The coverage of the vehicles will be expanded with updates. Since this is an Android based scann tool, you can update the software directly via Wi-Fi with one click.
4. Output Checkout Report: After completing the diagnostics, the scan tool will record the test, including client information, vehicle information and diagnostic result, for users to view or print.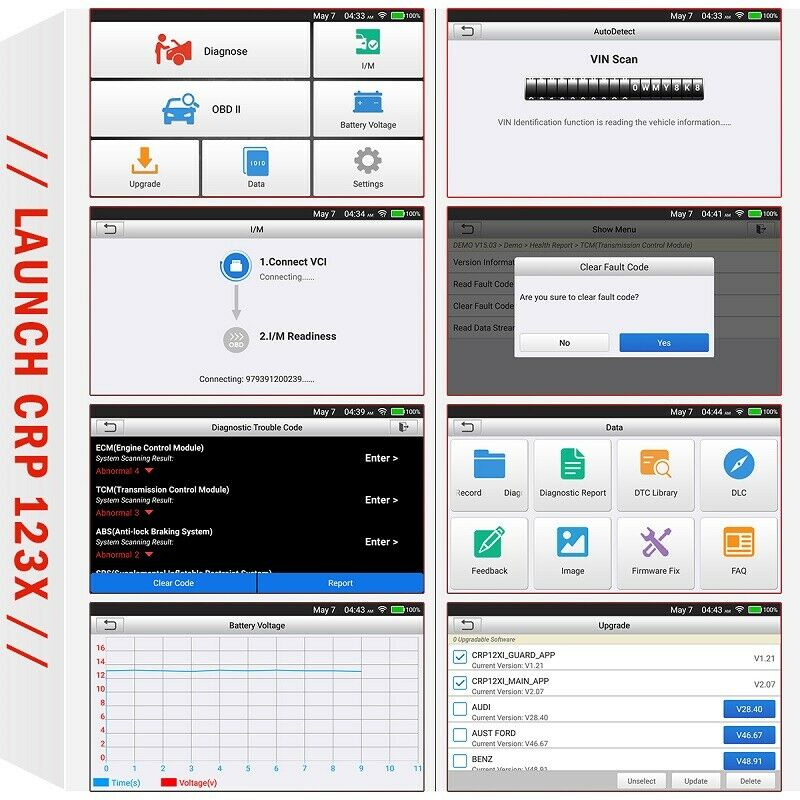 Launch CRP123X Car list:
Creader 123X Parameters:
Screen: 5 inch
Voltage input: 9-18V
Working Temperature: -10°C – 55°C
Storage Temperature: -20°C – 70°C
Dimension: 8.97″ ( L ) x 4.92″ (W) x 1.36″ ( H )
Unit Weight: <565g
CRP123X vs CRP123 vs CRP123E:
Creader 123X Package includes: